I'm back..uhuks…yes a lot of things to write but I do not have enough time *I always look at mirror and asked myself adakah mataku sudah jadi mcm mata panda…? Kwang3*

..this time I will try to focus on solemnization..akad-nikah where guys will have some kind of training esp "Aku terima nikahnya.......mas kahwin RM xxx tunai*

Note for encik tunang: nanti kita namakan anak perempuan kita nama yg ringkas ek..sian kat bakal menantu sbb nama awak dh cukup panjang ;p

Procedures and documents
Follow accordingly...make sure to keep it properly *esp when you have received the documents from husband-to-be* I will write later as considering my procedures will be extra *since it will be proses perkahwinan Johor ok?*

Tok kadi
Make sure to book him earlier esp if so many people kahwin at the same date as yours...or even at the same time same place

Don't forget to give him some token of appreciation *I understand it will be upah nikah for tok kadi and saksi* Since he is the most important person...

Place and time
House, masjid, morning, afternoon, evening, night…choose as long as it is ok for the family also

Maskahwin
This is important. Please don't forget to bring. Johor will have the lowest rate RM22.50 and certains do not gives money instead choosing al –Quran or anything

Programme
Tentative programme…when to exchange the hantaran?…follow keluarga Sakinah *Johorean again*
sesi tukar hantaran di rumah (atas) atau di masjid (bawah)?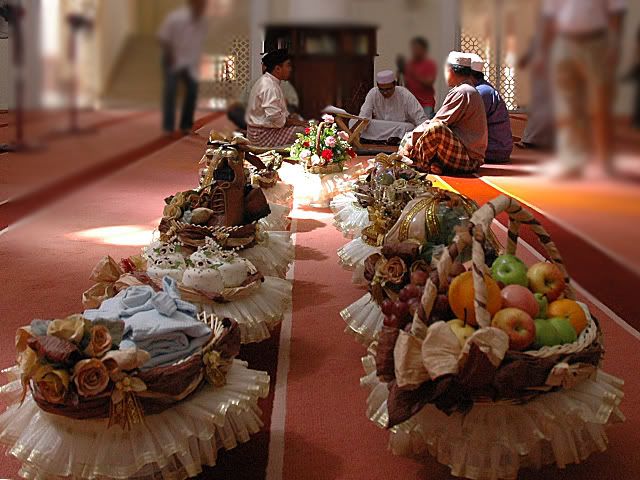 some even have their solemnization at the mosque and brings all the hantarans, some might want to exchange it at home…whatever it is please make sure communicate earlier..

Baju nikah, bride and groom
Sesi cuci mata..lets have some looks for the solemnization outfit….usually white or pastel color will be choose…whatever it is it's up to the bride and groom


Bride outfit and accessories…yes, they have a lot of design to choose baju kurung, kurung moden, kuring Pahang, kebaya labuh, mini jubah…and so many design to choose…even for the materials, chiffon, satin, lace etc

Usually bride that wear hijab will have cekak spider *I know it since few back years the name, but not sure who create the name as cekak spider…* as it is more simple compared to tiaras….
Henna…not only bride have henna but also groom…there's a lot of choices of design for bride's henna...however, I believe we read about inai bercorak2 ini haram…whatever it is it follows your stand…if 50-50 about hokum then just have simple henna DIY ..
Bantal nikah, bunga tangan as add on accessories…For makeup…usually it will be natural look esp if you have your nikah at masjid

Groom outfit…it is more simple for them as usually they will have baju melayu (plain or maybe sulam2 di leher), samping (dagang luar, dagang dalam..korang faham ke..ala samping masuk dalam atau ke luar tuh* songkok (plain/ put extra lilit/ brooch/ bulu ayam?? – macam penari zapin lelaki..ada bulu ayam), henna (not all fingers la)
baju melayu sulam


brooch di songkok dan jari pengantin lelaki yg berinai
Sujud syukur, solat sunat nikah


This is usually performed by groom once akad done *no dancing2 or lompat2 gumbira…simpan unyk outdoor maybe?*…it is showing kesyukuran kerana rahmat Allah yg mengurniakan isteri *dan juga keluarga mertua* dan mudah2an kekal hingga akhir hayat.Amin
Bilik pengantin

Some pics also….decorations depend on ur theme, budget…
bilik pengantin...katil 4 tiang
Pelamin nikah
Some pics..esp if nikah di rumah and might have hotel reception

To be continued